Serviciul Maritim Roman (S.M.R.) - (Romanian Maritime Service)


The S.M.R.: In 1895, based on the law adopted on 7.06.1888, the Romanian Maritime Service (Serviciul Maritim Roman or S.M.R.) was established to provide sea transport to and from the Levant carrying general cargo, maritime mail and passengers. On the Continent, S.M.R. had direct connection with the Paris - Ostende - Bucharest - Constanta express train, the rapid train from Berlin and the Romanian express trains.

The first Constanta to Constantinople service was on 26 September 1895. It was extended to Piraeus in May 1897 and then to Alexandria in June 1899. Haifa was added in May 1924 and Beirut in 1933. The route was then as follows: Constanta-Istanbul-Piraeus-Beirut-Haifa-Alexandria-Piraeus-Istanbul-Constanta. On 27 September 1914, at theonset of World War I. the Black Sea entrance to the Bosphorus was mined by the Russian fleet and the service to the Levant suspended until November 1921.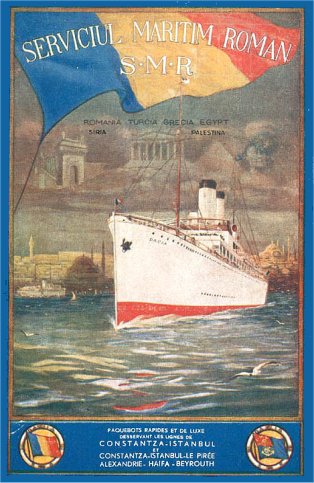 The King of Romania intended to extend the Maritime Service up to the Indies. In the 1930s, Constanta became the most important port of the Black Sea between Odessa and Istanbul. Except for minor interruptions, the service continued, mostly on a weekly sailing basis, until the beginning of World War II. With the Russian occupation of Romania in 1945 all the ships were taken as war booty and the line ceased to exist.

From 30 December 1906, a postal clerk went on each ship and mail received a postmark "Constanta-Alexandria" or "Alexandria-Constanta", depending on the direction of the ship. Different types of handstamps were used over the years. Covers and cards are found bearing Egyptian stamps as well as those of Romania and others.