After leaving their native New Zealand and serving in the British Army during World War I, the Nairn brothers Jerry and Norman decided to set up a business in the Middle East selling cars. Business did not take off as hoped, however, so they opened a taxi service on the 112km journey (70 miles) between Beirut and Haifa. Their taxis cut the normal travel, which was still largely dependent on camels and other beasts of burden, from three days to a day and soon a daily schedule was implemented and the service extended to Damascus.

Norman Nairn proposed to British officials in Baghdad that he and his brother provide a regular mail service between Damascus and Baghdad. He pointed out that by using the desert track the normal time for mail deliveries between India and Great Britain could be cut to nine or ten days instead of the customary six weeks needed to send mail by ship through the Suez Canal - by linking the overland route to the arrival of ships at Port Said.

British officials were sceptical, as were the French authorities in Damascus. But the French Government eventually approved the idea - even agreeing to provide a subsidy in gold to pay desert tribes for a guarantee of safe passage across the desert - and the Nairns, as a result, signed a contract to carry mail between Haifa and Baghdad on a weekly basis for five years - and that the time for the journey should not exceed 60 hours. For every hour over that limit, a fine would be imposed. This clause in the contract never had to be invoked.

On October 18, 1923, just a little over six months after the first exploratory trip, the mail service was officially opened, with the first run a resounding success. After a while passengers were also carried.

As the Nairns' enterprise prospered, competition was inevitable, and one company, owned by the Beirut brothers Francis and Alfred Kettaneh began to offer passengers the chance to see Palmyra when travelling between Damascus and Baghdad. The Nairns responded by cutting their time to a little over 24 hours.

By 1926 the Nairns were operating six-ton American-made Safeway buses capable of carrying 16 passengers in comfortable, high-backed seats together with almost two tons of luggage. With two drivers - which enabled the buses to be driven at night too - the Naims found they could reduce the crossing time to 20 hours.

By 1934, the business was using new vehicles called Aerocars, Buick coupés towing small coaches capable of carrying ten passengers. They also added a four-wheeled American Car Foundry coach for 24 passengers and fitted with reclining seats as well as what was then the biggest bus in the world, a Marmon-Harrington 38-seater powered by a l50-horsepower tractor driven off three axles. This 21m-long vehicle (70-feet), bought in 1933, weighed 26 tons and gave passengers a smooth ride in seats modelled on those used in passenger aircrafts. Riders also enjoyed such amenities as a buffet, a lavatory and packed lunches.

In 1936 the transport company entered its last and most prosperous phase, a period that coincided with, and partially developed from, the rapidly growing importance of oil in the Middle East.

Under the Vichy French during World War II the Nairns had to endure some lean years but in the period immediately after the war, the company flourished. In the postwar period, however, it began to decline as air transport developed and political difficulties increased. By 1950 the Nairns had had enough; they handed over the company's shares to their employees.

The initial Iraqi mail contract was for a five-year term with post being carried at the rate of 1s 6d per pound. The mail termini were Baghdad and Port Said via Haifa, whence mails would proceed by rail. The weekly service was scheduled to connect with service of the Anglo-Indian steamers at Port Said and later with mail-carrying ships at Beirut harbour.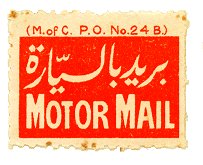 At the start mail was meant to be inscribed by the sender "OVERLAND MAIL" in red ink and in 1923 Egypt issued at white on red label. 27mm x 19mm: these were produced in a 6x12 sheet and given away free of charge. A surcharge was made of 5 mills per 20g for letters to Lebanon and Syria and 15 mills per 20g for letters to Iraq. On March 27, 1924, Iraq also started issue its own labels.

As the air route became established the motor mail surcharge was cut to 3 mills per 50g but the service was dropped sometime around the mid-Thirties. Few covers seem to have survived, and most of these are for the western direction from Iraq; fewer than 20 have been noted travelling from Egypt.


Extracts from the Egyptian Journal Officiel (as published in QC 139)

Link